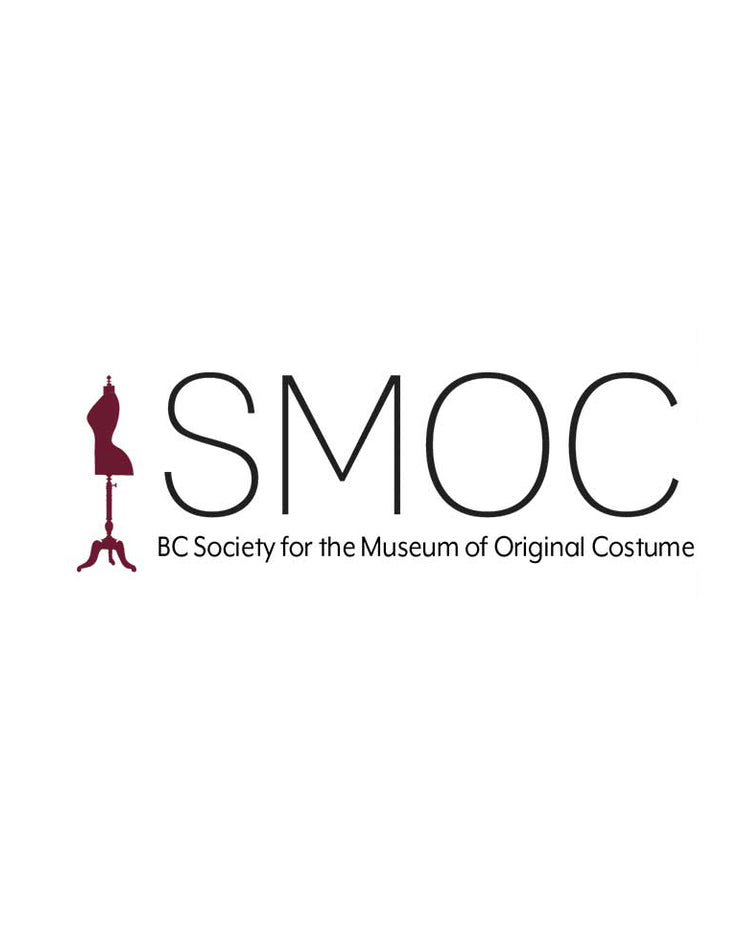 SMOC's Bizarre Bazaar, Vancouver
Sunday March 19, 2017
I will be at Hycroft on Sunday March 19 to participate in the Society for the Museum of Original Costume's Bizarre Bazaar, a sale of new and vintage fashion. The event will include a sale of the Society's collectables, as well as an opportunity to have the inimitable Ivan Sayers identify and date any family treasures that you may own or date family photos based on dress. The Bazaar is a fundraiser for SMOC in aid of their quest for a permanent home for their vast collection of vintage fashion.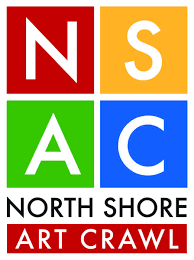 North Shore Art Crawl, Vancouver
March 4 and 5, 2017
I will be opening my home studio for this year's North Shore Art Crawl, along with 280 other artists working in a vast range of styles and media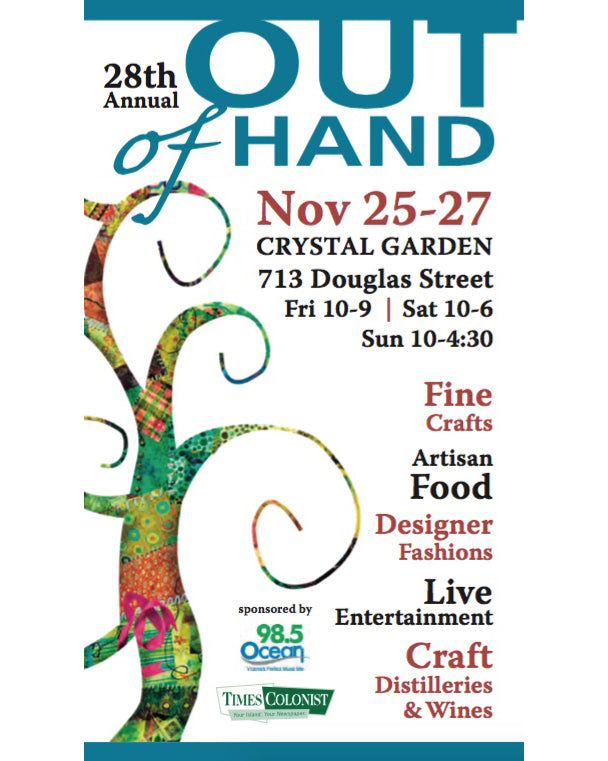 Out of Hand, Victoria
November 24 to 27, 2016
I will be at Victoria's Out of Hand Artisan Fair with my line of paper goods. The show will be held downtown in the historic Crystal Garden.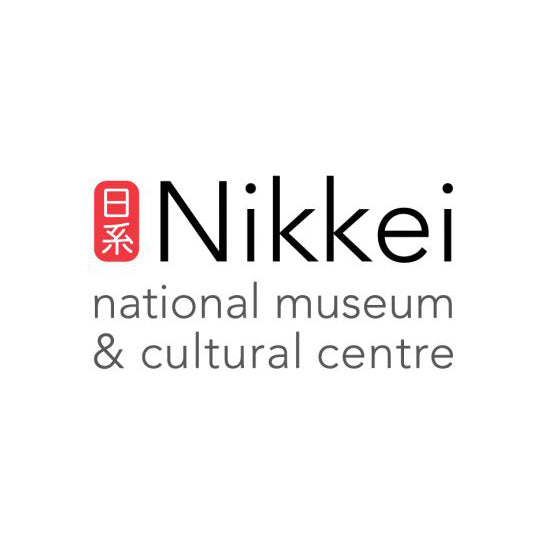 Nikkei Centre Craft Fair
November 12 and 13, 2016
I will have a booth at this year's Christmas Craft Fair at the Nikkei Centre in Burnaby – the Japanese Canadian Cultural Centre. It's a lovely facility and they do a nice show with an emphasis on craft with a Japanese bent.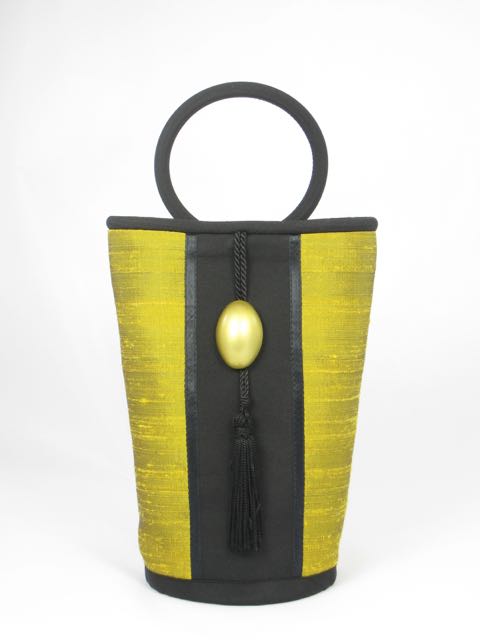 VSO Symphony of Style
November 13, 2106
As they have done for the past three years, the VSO asked me again this year to donate an evening bag for the Silent Auction portion of their gala annual fundraiser, Symphony of Style. I'm always happy to comply; it's such a gorgeous event. Here is this year's donation.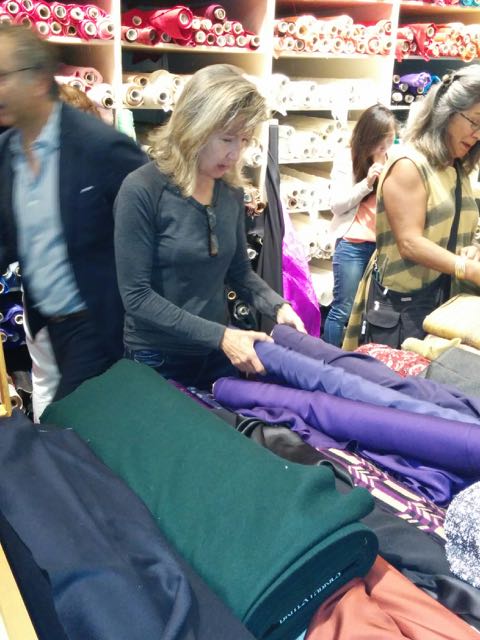 Shopping Heaven in San Francisco
October 10, 2016
My partner and I spent Thanksgiving weekend in San Francisco, which meant a visit to Britex Fabrics on Union Square. They have the absolute best selection of silk I've ever seen, and by chance, we were there for their semi-annual sale. Crazy busy – very exhilarating. They do online sales as well.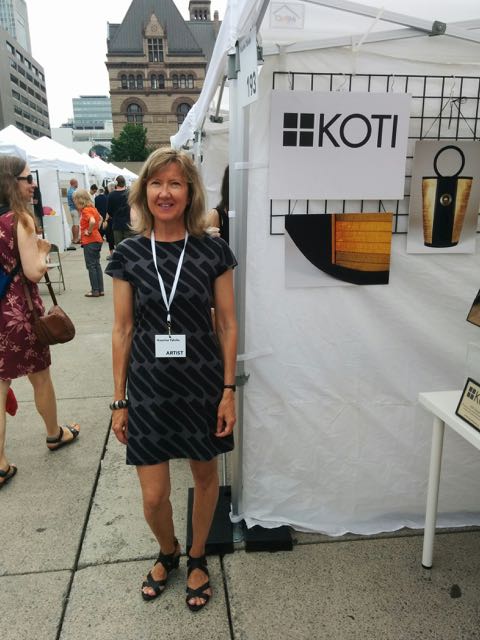 At the TOAE
July 8, 2016
Had a wonderful show in Toronto. Huge crowds, lots of bustle despite temperatures in the mid-thirties. Quite different to do a fine art show; I found the enormous range of work really stimulating.
A local writer, Richard French, profiled me in his very thoughtful blog piece:  from my writing life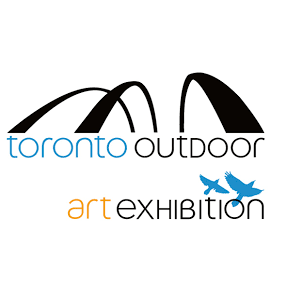 Toronto Outdoor Art Exhibition
July 8 to 10, 2016
I will have a booth at the Toronto Outdoor Art Exhibition in Nathan Phillips Square – right in the heart of downtown Toronto. This is a huge, very exciting show, with over 350 artists and more than 100,000 visitors.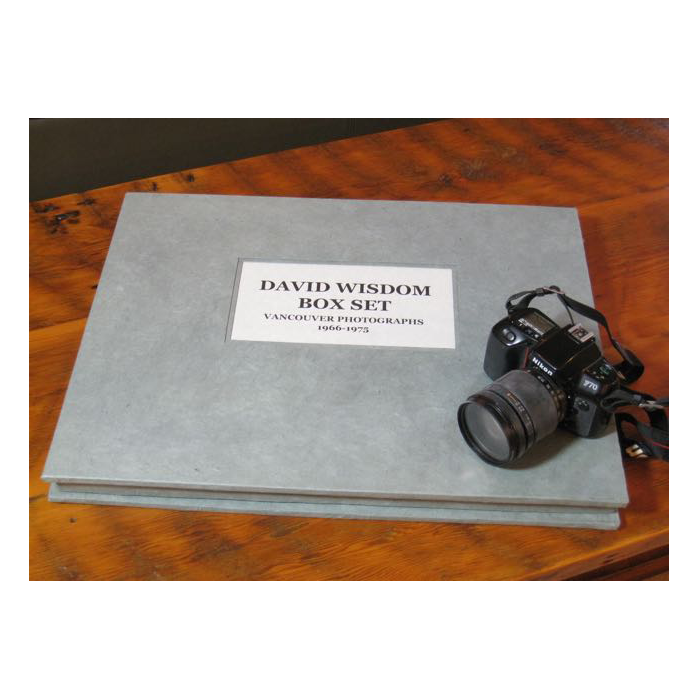 High-Profile Commission
May, 2016
I've just completed a large commission from a local photographer for custom boxes for a limited edition of his early Vancouver photos. Purchasers of the photo sets include such notable institutions as the University of BC and the Vancouver Art Gallery.
Legends of Tomorrow
March 3, 2016
Big surprise when I was contacted by the props person from Legends of Tomorrow, a TV show filmed in Vancouver. She wanted one of my Trap Bags for the show. It's a time-traveling superhero show, so not sure where the evening bag fits in, but I'm happy for the exposure.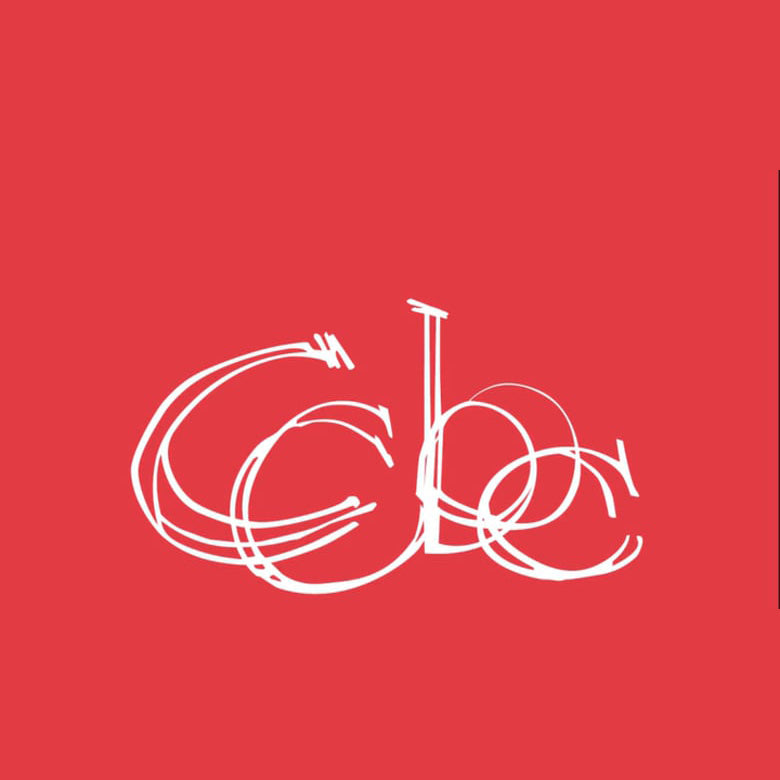 Giving a talk at the Carousel Theatre on Granville Island
Tuesday November 17, 2015
I will be one of three speakers at the next lecture of a series jointly hosted by the Craft Council of BC and the VanDusen Garden Association. The artists presenting on November 17th will be talking about their use of reclaimed materials in their work.
Event details are on the Craft Council website.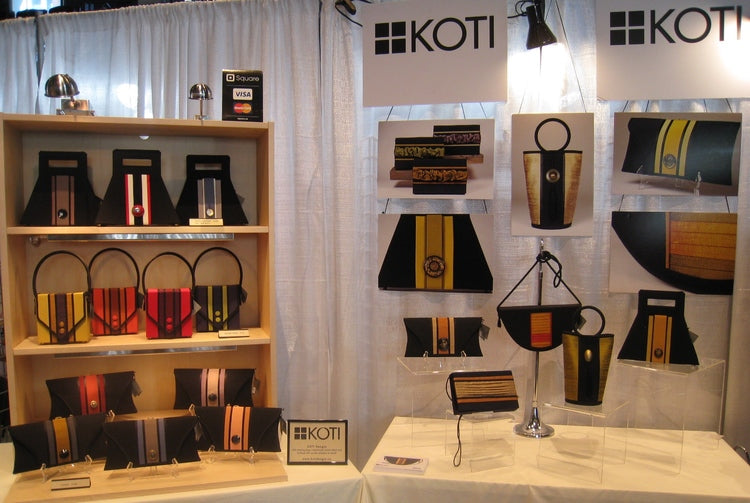 KOTI Designs on Still Weird Zine
October 21, 2015
My booth at the Wearable Art Show got some nice coverage on Still Weird Zine.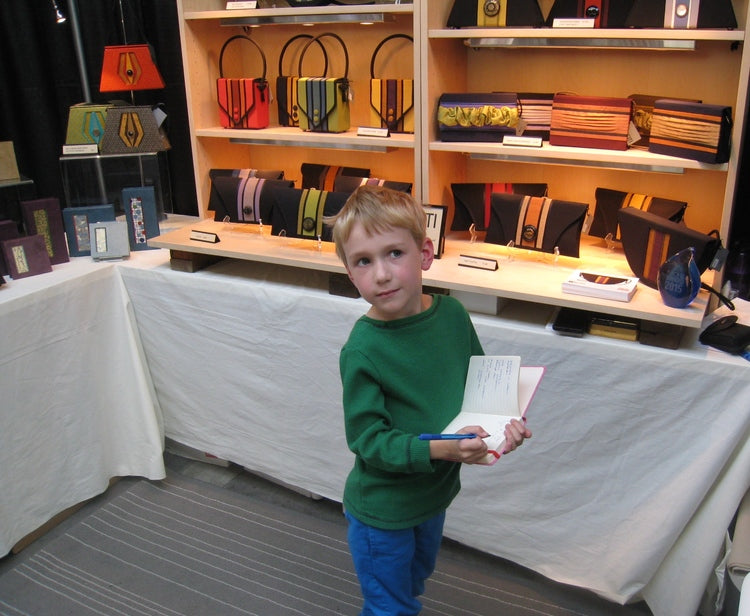 At the Craft Ontario Show
October 9 to 11, 2015
Second year at the Craft Ontario show in Toronto. Here's my nephew, who is now six, doing inventory for me.
Wearable Art Show Toronto
October 17, 2015
I will be doing a fabulous all-wearables show in Toronto featuring some very exciting local designers. This will be my first time doing the show and I'm really excited about it. The show runs for one day only, Saturday October 17, at the Daniels Spectrum Cultural Centre.
Wearable Art Show website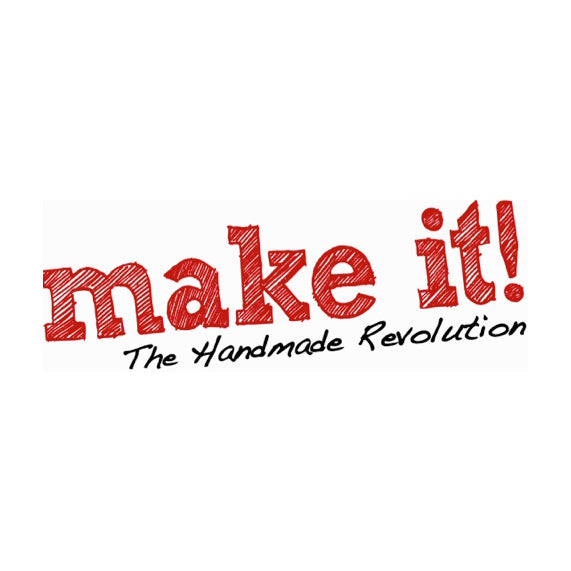 Make It Edmonton!
November 26 to 29, 2015
I'm going to be at Make It Edmonton!this year – my first ever show in Edmonton. After participating in the Language of Craft exhibition there this spring and seeing all the buzz in the Alberta Craft Council store, I got excited about the Edmonton craft scene. For this indie show, I'll be bringing only my paper goods.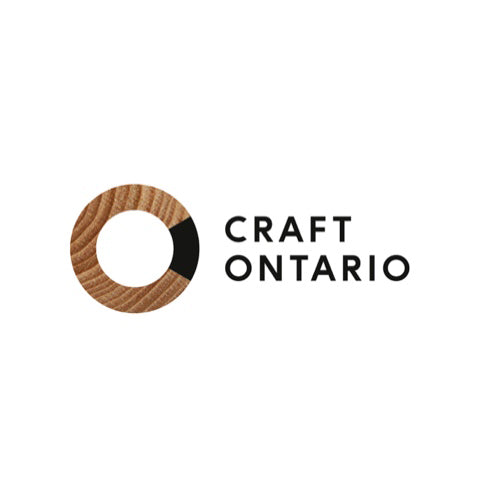 Craft Ontario Show 2015
October 9 to 11, 2015
I will be at Craft Ontario's Thanksgiving show in Toronto again this year. After such a great time at their inaugural event last year, I'm looking forward to doing it again. This time I will be showing both my purses and paper goods.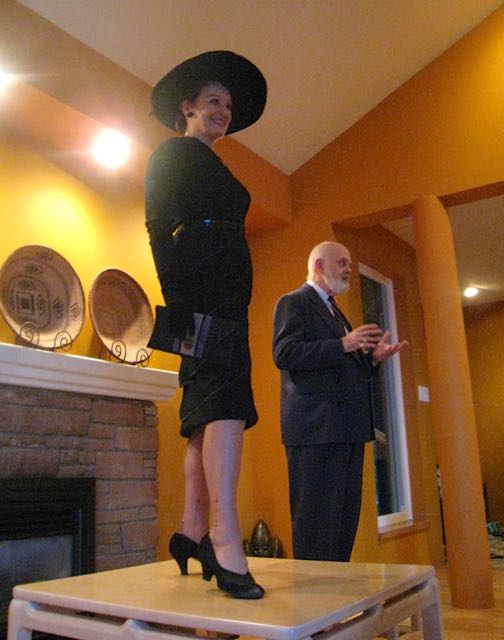 SMOC / KOTI Fashion Show
May 28, 2015
Ivan Sayers hosted a fashion show in my home, in which my purses were paired with vintage dresses from Ivan's own collection. All proceeds went to the Society for the Museum of Original Costume for their long-range goal of building a museum to house their collection.
SMOC on Facebook for more photos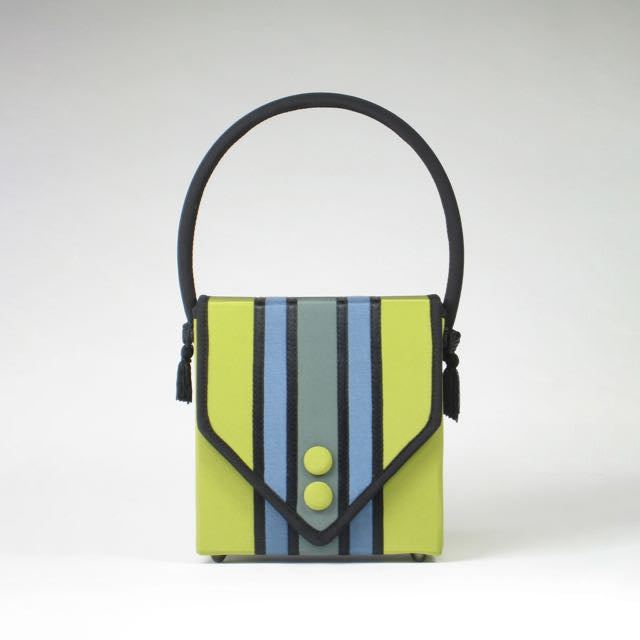 Alberta Craft Council Exhibition
April 4 to July 4, 2015
Three of my purses are included in the "Language of Craft" exhibition, which is a special Craft Year 2015 project, on display in the Feature Gallery at the Alberta Craft Council in Edmonton, Alberta.